Sunday, May 16th, 2010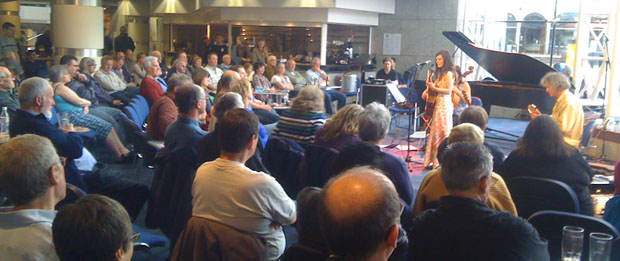 Curated by Moseley Folk as part of Town Hall Symphony Hall's English Originals weekend, Folk For Free saw some of Birmingham's finest singer-songwriters take over the foyer of Symphony Hall for an afternoon.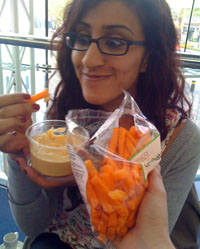 I caught the latter half of Abie Budgen's set whose fingerpicking and guitarslapping quirkiness kept my attention. The lovely thing about the venue was the opportunity to sit up on the balcony and have a picnic. In the interlude some lovely red pepper humous and carrot batons were consumed, followed by chocolate fingers. If only all gigs were like this. Promoters, take note!
Then came Deb Hodgson, who first came to my attention at the folk stage of last year's OxjamBrum. Her voice is nothing short of sensational. She really made this relaxed setting her own, leading her band of guitar, piano, violin and cello on a journey from smokey New Orleans jazz club to the picturesque Moseley Park and back again. Of particular note was a beautiful interpretation of a poem "I Count The Days", written by a member of the audience.
From a few conversations afterwards it seems Folk For Free is going to become a regular occurance in the Symphony Hall bar, in a similar vein to the Rush Hour Blues shows.
All this has really whetted the appetite for Moseley Folk 2010. Roll on the first weekend in September…