British Sea Power @ Birmingham Glee Club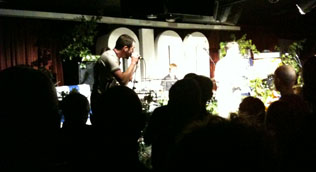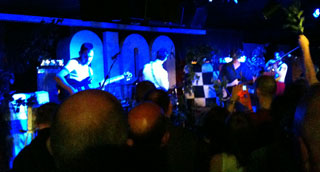 British Sea Power are one of those bands I had always wanted to see, but never enough to actually go and see them. It was the era of so many explorative bands such as My Vitriol, The Cooper Temple Clause and The Music, that BSP simply strayed slightly under my radar.
Seven years later, I finally put that right – and am I glad I did. The band reaked of a group of mates REALLY enjoying what they do, a remarkable feat after so many years of under-achievement.
The Glee Club is a relatively new venue on the city's music scene, moving from one-off to staple gig venue in the last few years. They've not yet cracked the sound though. It took four songs for the levels to be ironed out and even then they weren't at all perfect. But that's a mere niggle in the midst of a chaotic live show where you couldn't take your eyes of the stage for a second, not least because, to quote my mate Andy, it looked like a scene from A Midsummer Nights Dream (I thought raves like these died in the nineties?)
As for the set itself, I was anticipating a more laid back approach with plenty of new, perhaps more experimental new material. But just a few songs in we'd already had the trippy Apologies To Insect Life and blistering anthem Remember Me. The sneaks! A few newbies were eventually performed to a pretty sedate reaction, but that was more to do with the vibe of the Glee Club than the quality of the songs. So much so even the awesome Waving Flags only received a smattering of applause. Credit to the band for keeping going with so much enthusiasm.
Like many before them, BSP keep things interesting by constantly chopping and changing the vocalists, guitars and adding in other instruments where necessary. But they risked this by dragging out the finale, a real pet hate of mine as you know the show has essentially finished, but you feel forced to watch a bunch of musicians indulge themselves. It's the musical equivalent of eating an entire tub of Ben & Jerrys when you only wanted three scoops. It's still nice, but each scoop gets less and less exciting.
But again, that's a mere niggle. There's a craftsmanship to British Sea Power's music that kept my attention throughout, and I'm a fussy bugger. I'd see them again, so I guess that's all you need to know.